Mud in Yer Eye
Mud in Yer Eye is the oldest continuously operating contra dance band in the Cleveland area. Founded as an "open" band, with members joining without audition and beginners and advanced players working together, Mud has been playing contra dance music since 1978.
Book us, join us, or come dance!
Dances
---
Live dances!
First Saturdays Lakewood OH Masonic Temple
---
Mud in Yer Eye plays at the Lakewood Contra Dance on first Saturdays and is also available to play for dances or other occasions in the greater Cleveland area.
First Saturday Dance: Lakewood Masonic Temple 15300 Detroit Ave, Lakewood, OH $10.00 individual admission Caller Carol Kopp. Note: Dance is held every month EXCEPT December & August.

Teaching is at 7. Dance is from 7:30-10:30.
See our Schedule for Other Upcoming Dances and Gigs
What is a contra dance? Contra dance is a form of traditional dance closely related to English Country or square dancing in which couples typically dance in two facing lines of indefinite length. They are particularly popular in the United States. Our dances typically combine traditional contras (like the Virginia Reel) with other round or square dances and a finishing waltz. The rambunctious dancing you may have seen in the most recent Pride and Prejudice film is very similar to what you might see at a contra dance. If you've never been, you can also watch a live contradance on YouTube.
Contras in the US are typically danced to 'old-timey' music from the Celtic, Scottish, Appalachian, or Bluegrass traditions, although you'll hear us drop in a Slavic tune now and again.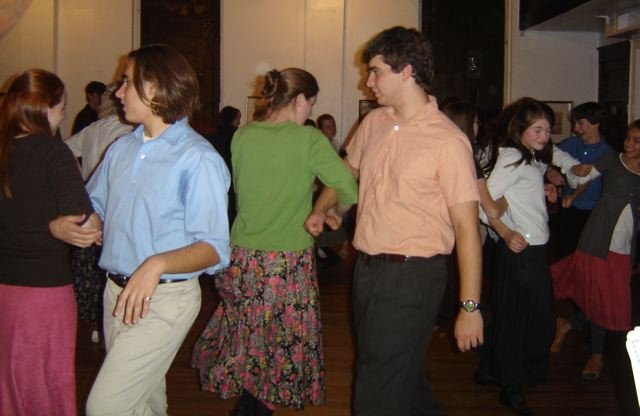 Contras are welcoming! One of the many nice things about contra dances is that they are so welcoming. Many people come without partners and find plenty of folks to dance with. If you've never danced before, you can learn the basic moves during the teaching session before the dance starts, but every dance is taught before it is called. You may also find that all those square dance moves you learned in gym come back really quickly, though with slightly different names. Besides, contra dancers are among the friendliest folk in the world and, if you look lost, you'll find them gently nudging you to the right place until you are where you belong. We have had dancers as young as 7 dancing along with seniors with many years' experience.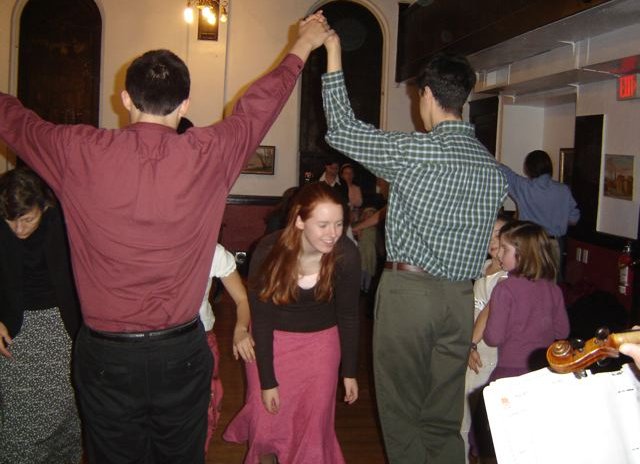 What should I wear? There is nothing special to wear except soft-soled shoes or sneakers. Come as you are and have fun.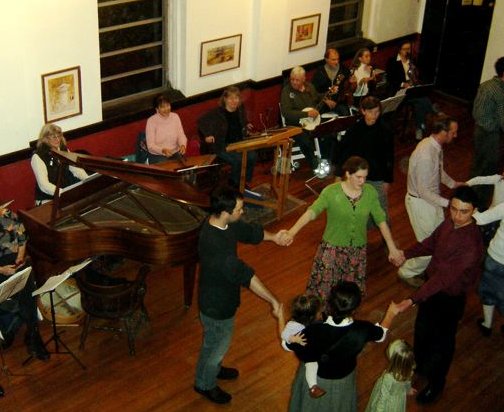 A Brief History of Mud in Yer Eye
Tom Lashuay
In 1978, the late Bill Workman came to Cleveland from the Boston area where he had been in an "open" contra-dance band called Roaring Jelly (a band still in existence). Bill thought the same idea would work in Cleveland. The "open" concept of MIYE allows musicians, from beginning to advanced levels to join the band, developing their musical skills in a contra dance setting. The intent was to help them learn, first of all, how to play in a band, and second, how to play contra dance music. In Bill's own words, "Come, bring your instrument and play what you can, as well as you can, for as long as you can."
In the Spring of 1978, Bill met Louisa Bonnie at Cleveland's first, live-music community contra dance at Haydn Hall on the campus of Western Reserve University (now Case Western Reserve University). Louisa, who had been involved in contra dancing in the New England area, was calling the dance. They joined forces that Fall for the second contra dance, held on Cleveland's west side, in the party room of the Great Northern Towers in North Olmsted, where Bill was living. Among the dancers that night was Beth Nagusky, another veteran of New England style contra dance. Bill, Louisa and Beth would begin a concerted effort to hold contra dances regularly. At that second dance were a number of students from Oberlin College, both dancers and musicians, who helped keep the dance going smoothly. Also beginning to form that night, was the "house band" who would play for all the contra dances for the next three years. At first it was informally called "The Cleveland Contra Dance Band", then the "Nameless Country Band". By the late Fall of the following year, 1979, one of the regular band members, Mark Laskey, came up with the name "Mud In Yer Eye". As Bill Workman said, "It was voted on, and no one looked back."
As an open band, the early Mud In Yer Eye was made up of a variety of personnel. "There could be as few as five or as many as twenty for dances and rehearsals," said Bill. Many dance and folk musicians in the greater Cleveland area have sat in and played in "Mud" from time to time. The core members of the band that first year were Bill Workman on fiddle, Marthe Hess and Louisa Bonnie on penny whistles and other wind instruments, Mark Laskey on guitar, and Andy Sinclair played upright bass. Also coming into the band that first year were Bob Mellman on guitar, Dick Ashbrook with assorted percussive instruments and concertina, and Chuck Levy on banjo.

Bill and Louisa worked at forming "Mud" into a contra dance band. Louisa recalled in an interview, that Bill "was one of the knowledgeable, experienced musicians who really knew what we were trying to do. It was challenging to guide so many different musical abilities and different musical tastes. Marthe Hess was the only other one who had ever played the music or had an ear for it, and she was only here for the first year." It is still a continuing problem for MIYE to arrange music that isn't overwhelming for beginners, yet is interesting for the advanced musicians.

Bill, Louisa and Beth began having regular dances at the First English Lutheran Church on Euclid Heights Blvd. Beth Nagusky recalled "We spent an incredible amount of energy…. new dancers, new callers, new musicians, but we sure stirred up interest. We were asked to do dances at the 1979 and 1980 Kent State Folk Festivals. The Greentown, Wooster and Kent dances all started up after that." Bill Workman remembered, "There was a vigor and excitement to it all. People told their friends about the dances at parties, at school and at work."
Another aspect of those first years was bringing in outside musicians and dancers with contra dance experience. In 1979 the big event was hosting the New England dancing master Dudley Laufman for workshops and a dance. Other performers who came to Cleveland in those early years included Todd Whittemore with Rodney and Randy Miller, Sandy Bradley and John McCutcheon. Louisa Bonnie remembered that "It was part of the education…..for people to see what the music could be….I thought it was important to have other musicians visit. It exposed people to how the music could be played."
By 1981, the original dance had grown into two dances a month. One was on the east side of Cleveland, run by Beth Nagusky, and one on the west side, run by MIYE. Mud's dance eventually ended up at St. Patrick's Church Social Hall on Bridge St. in Ohio City. Every first Saturday of the month, excluding the summer months, MIYE played at St. Pat's into the late 1990's, when the dance moved to it's present location at the Masonic Temple on Detroit Ave. From very early on Carol Kopp was the regular caller for the west side dance. Bill, Bonnie and Beth slowly removed themselves from the dances, as Mud In Yer Eye and contra had both taken on lives of their own in Cleveland.

TUNES BY MIYE MEMBERS
BILL WORKMAN: KATHY, BRIDE OF MATT
RICHARD ALDEN SHADLEY: PATTI'S JIG, MARY and DICK, VIRGINIA and MARVIN
CHRIS KARR: BETH'S WALTZ and GRAND RIVER WALTZ
ROBERT GLENN: JOE and BEA'S WEDDING, MAGGIE'S WHIMSEY
JAN LARSEN: MAKING PROGRESS
FRITZ SCHAUFELE: BRIDGE STREET REEL, DEEPWOOD REEL,
MAIREAD'S WALTZ
DICK SWAIN: ROBERTA and TOM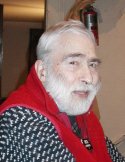 Founding member Dick Ashbrook in 2006